About Us
Background and Context
The principal objective of the National Audit Office (NAO) is to support Parliament to hold government to account and improve public services. The NAO provides authoritative assurance and advice to Parliament about public spending though a range of work. This includes financial audit of government, which is key to accountability and to improving financial management, and major investigations into the Value for Money of government programmes and projects. As we undertake all our work we have a very clear focus on driving long-term sustainable improvement in public service delivery, applying our expertise and our cross-government perspective to draw out what good looks like, and working with government and our stakeholders to deliver better performance. Our work matters to the nation and its citizens.
Overview of the National Audit Office's strategy 2020-21 to 2024-25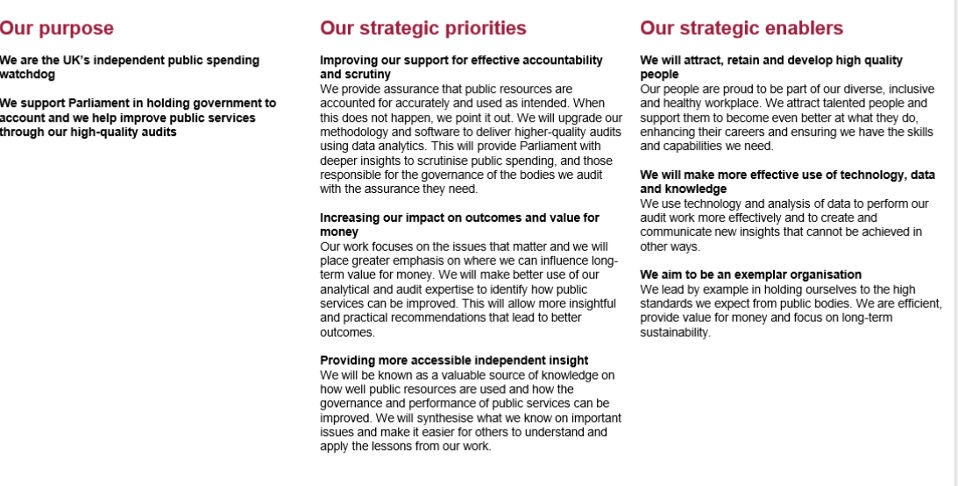 This role is one of six senior roles which lead our expertise hubs and will play a key role in improving the use of knowledge within our organisation and communicating what we know with the outside world. We are looking for a director of our Knowledge Hub for People and Operations to lead in this important area for our work, bringing together insights from within the NAO, across government, and from international practice. This is an opportunity to help shape one of our strategic priorities at an important and challenging time for public services in the UK.
The NAO has an active commitment to diversity and inclusion. Whilst we welcome applications from all candidates who can meet the role requirements, we would particularly encourage applications from individuals from black and minority ethnic backgrounds and from women, who are currently under-represented at senior levels.
For further information on the NAO's strategy and the role of the Knowledge Hubs please visit https://www.nao.org.uk/about-us/our-strategy/ and (https://www.nao.org.uk/knowledge/). An example of our recent work on improving operational delivery in government is here Improving-operational-delivery-in-government-main.pdf'