Welcome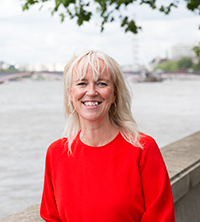 I am delighted you are interested in the role of CEO at the Chartered Institute of Fundraising, we are the professional membership body for UK fundraising.
First and foremost, we are passionate about fundraising that changes the world, we aim to lift up fundraisers across the UK, to enable them to be the very best they can be each and every day.  We champion our members' excellence in fundraising. We support fundraisers through professional development and education. We connect fundraisers across all sectors and skill sets to share and learn with each other.
This is an exciting opportunity for someone who shares our love of fundraising and has the ambition to drive the organisation and the sector.  We serve a vibrant, creative and dynamic profession, made up of people who have strong opinions, are driven and are not afraid to stand up for what they want!  We embrace that about our profession, and you will need to want to do that too!
You will need to be fanatical about fundraising and the role the Chartered Institute plays in leading, representing and championing the fundraising profession and community.  You'll also need to be serious about our diversity agenda and our commitment to making the organisation and the sector a fairer and safer place for all.
You would be joining at a pivotal and defining point for us as an organisation. We are looking for someone who can lead the development and delivery of our new five-year strategy, working with a talented and experienced staff team and an informed and committed board of trustees.
We are looking for a creative leader, managing our emergence from the pandemic and its impact on our members and the services we provide them alongside our commitment to continuing on our journey to charter individual members of the Institute.
You will be in your element engaging with, and harnessing the passion of our hundreds of volunteers, comfortable lobbying governments across the UK to ensure fundraisers operate in the best of environments whilst also championing fundraising as a profession and leading thought leadership on the future of the sector. Most importantly, you will be committed to our ambition of making our profession an inclusive one where everyone is able to truly thrive.
The information pack for candidates highlights what is expected of this role and I hope will encourage your application. We very much look forward to welcoming you into the role.
Claire Rowney
Chair of Trustees
As an equal opportunity employer, we particularly encourage and welcome applications from women, people of minority ethnic origin and people with disabilities, as well as candidates from other groups which are under-represented in our community.