About Us
Introducing Help Musicians
In 1921 celebrated English tenor Gervase Elwes died in a railway accident while touring the USA at the height of his career. He was known not only for his musical talent but also for his concern and support for fellow musicians. His friends, led by Elgar and Vaughan Williams, founded Help Musicians (known for many decades as the Musicians Benevolent Fund) to continue these charitable aims in his honour.
For nearly a century this unique, independent charity has provided a broad spectrum of help, support and opportunity to empower musicians through all stages of their lives. With a head office in London's Kings Cross and regional offices in Belfast and Glasgow, we continue reaching out to ensure we engage with the music profession right across the UK and amongst all genres of music.
By "professional musician" we mean those aged 18 or over who earn 50% or more of their income from performing music, composing/creating music or in a role requiring a high level of musical skill e.g. arranger, sound engineer, instrument maker, music therapist etc.
In 2019 we spent £5.6m on direct charitable activities, driven by a 70% increase in the number of payments made to support individuals and  organisations since 2017, with 14,600 connections with emerging, professional and retired musicians from all musical genres in the UK. In 2020 everything changed due to the pandemic: our Financial Hardship support alone reached over 24,000 musicians with more than £15m of support, alongside our usual ongoing programme of support.
The staff team and Trustees at Help Musicians are passionate about creating a world where musicians thrive. We pride ourselves on our personal approach – listening to musicians' needs and then offering bespoke and targeted solutions.
What makes us different?
We love music and help musicians. Our support is:
Essential: providing a lifetime of support, when it's needed most
Enduring: making a meaningful difference now and for the long-term
A musician's life can feel precarious, with many complex challenges leaving them vulnerable physically, financially, creatively and mentally. Establishing yourself within the music industry is almost impossible without help. Work and income can be intermittent. Injuries hit at the busiest times and business pressures, including from social media, take their toll on wellbeing and mental health. Our experience over the last 100 years has shown that musicians benefit most from support which is specifically designed for their unique needs.
Everything we do is shaped by research and knowledge. By paying attention to what we hear, we ensure that our work is effective and proactive. We understand the unique needs of musicians today and our forward-thinking approach ensures we recognise the challenges the next generation will face. This enables us to deploy our resources wisely and effectively in order to provide a lifetime of support for musicians when it's needed most.
What Help Musicians do
Our programme supports musicians' creativity, health & welfare and business needs. This balanced approach is unique (no other music charity supports all three sides of the musician's "triangle" of need) and it is vital (musicians need all three sides of the triangle to be strong in order to sustain a career).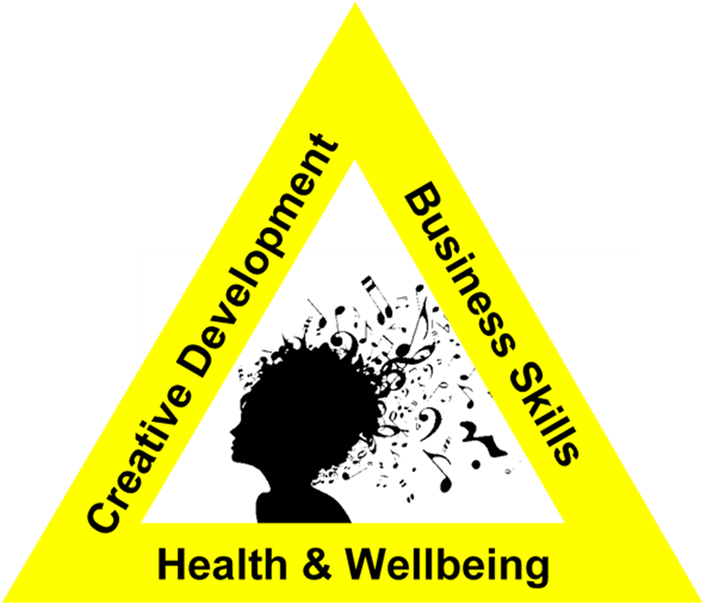 Our programme of work includes:
Creative funding, to help develop talent and give talented emerging musicians a crucial break. Every year, we help hundreds of musicians at the start of their careers (whatever their age) by providing funding for training directly to individuals or groups. In 2019 we awarded 335 creative grants to individuals and organisations (7% more than in 2018) totalling £1.5m (9% higher than in 2018). This was driven primarily by doubling the size of our flagship Do It Differently fund, an innovative fund which combines creative funding with access to wellbeing and business support – something no other creative funder is in a position to do.
Crisis support, providing a vital lifeline of financial, practical and emotional support for musicians facing a sudden illness, accident, emotional problem or other career crisis.
Help with long term illness, terminal illness and bereavement, assisting with therapy, medical treatment and other associated costs. Our partnership with the British Association of Performing Arts Medicine (BPAM) gives musicians access to highly-skilled specialists and our own team usually undertake household visits to make sure we fully understand each musician's needs.
Retirement/end-of-life care, including financial help, regular visits, respite breaks (for the older person and/or their carer) and help with mobility or domestic aids and adaptations. Hearing Health Scheme, providing access to heavily-subsidised specialist hearing assessment and bespoke hearing protection.
Music Minds Matter mental health helpline, our dedicated support service for the entire music industry, offering trained advisors to listen, support and help 24-7.
Research: we fund a lot of research, to ensure that the work we do is correctly targeted and to help increase the pre-emptive nature of our programme (current research project topics include tinnitus, musculoskeletal, access/inclusion, the shape of classical music careers)
Our funding
We rely completely on donations from music-lovers for our grants to musicians. Legacies have, for many decades,  been a particularly helpful source of income. We have invested these funds well and so have reserves that support our programme of work and currently cover our overheads. This means that our fundraising comes with our "100% pledge", whereby we pledge to cover all of the charity's overheads with income from our investment portfolio, so donors can be sure that every penny they give goes straight to the frontline.