Welcome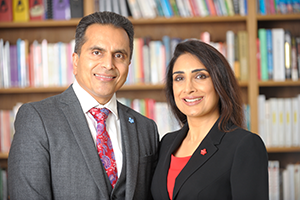 Thank you for your interest in joining the Hallmark Care Homes Foundation as the CEO.
Hallmark Care Homes are in their 23rd year and own and manage 20 care homes in England and Wales, with further plans for expansion to the current portfolio.
The foundation is an independent foundation building on the charitable work in the care sector undertaken by Hallmark Care Homes thus far.
During these 23 years, a key focus of the business has been about giving back and working alongside charities to support them, especially within the care sector. In 2010, as a family we founded The Hemraj Goyal Foundation where we have raised money, awareness and built strong partnerships with other charities.
To further our ability to continue our charitable endeavours the Hallmark Care Home Foundation will be the umbrella foundation supporting, promoting and continuing to build partnerships with other charities within the social care sector, with the newly appointed CEO being an integral part of this.
As the CEO you will be responsible for building, growing and developing the foundation alongside like-minded people who have the passion and drive to deliver this exciting venture. With the support of the Trustees, including Avnish and Anita Goyal, you will have a key role in the development of the strategy of the foundation, ensuring that we make a profound difference in social care.
This will be a challenging but highly rewarding role, if you feel you would like to be part of our team and have the skills and knowledge to bring to the foundation, please get in touch – we look forward to meeting you.
Avnish and Anita Goyal