Role Description
GOSH Charity Trustee
Every day brings new challenges at Great Ormond Street Hospital (the Hospital). Every day, 618 seriously ill children from across the UK arrive for life-changing treatments.
Every day, young lives hang in the balance as patients, families and staff battle the most complex illnesses. And every day, the brightest minds come together to achieve pioneering medical breakthroughs that change the lives of thousands of children – and change the world.
This extraordinary NHS Hospital has always depended on charitable support to give seriously ill children the best chance to fulfil their potential. Without donations, Great Ormond Street Hospital Children's Charity (the Charity) can't help fund ground-breaking research, advanced equipment, child and family support services, and the rebuilding and refurbishment of wards and medical facilities. Our staff help to raise these vital funds for the Hospital. A better future for seriously ill children starts with you.
Role Summary:
GOSH Charity's Trustees are volunteers and their role is to provide leadership and governance to the charity, enabling it to deliver long term support to the patients at Great Ormond Street Hospital and their families.
Trustees should seek to ensure that the Charity supports the priority funding needs of the Hospital, whilst always ensuring that the Charity complies with its objects, its values, its governing documents, high standards and great governance.
The Trustees have ultimate and equal responsibility for directing the affairs of the Charity, and ensuring that it is solvent, well-run, and meeting the needs for which it is set up.
GOSH Charity's Trustees act jointly, working as a team under the leadership of the Chair, to ensure funds given to the charity have maximum impact for the benefit of the children of Great Ormond Street Hospital (in line with the Charity's objects) and are used in furtherance of the Charity's charitable purposes and, where relevant, in the way intended by its donors. Trustees are accountable under charity law to the Charity Commission for all their actions as charity trustees.
All Trustees will also be on at least one Committee as outlined below.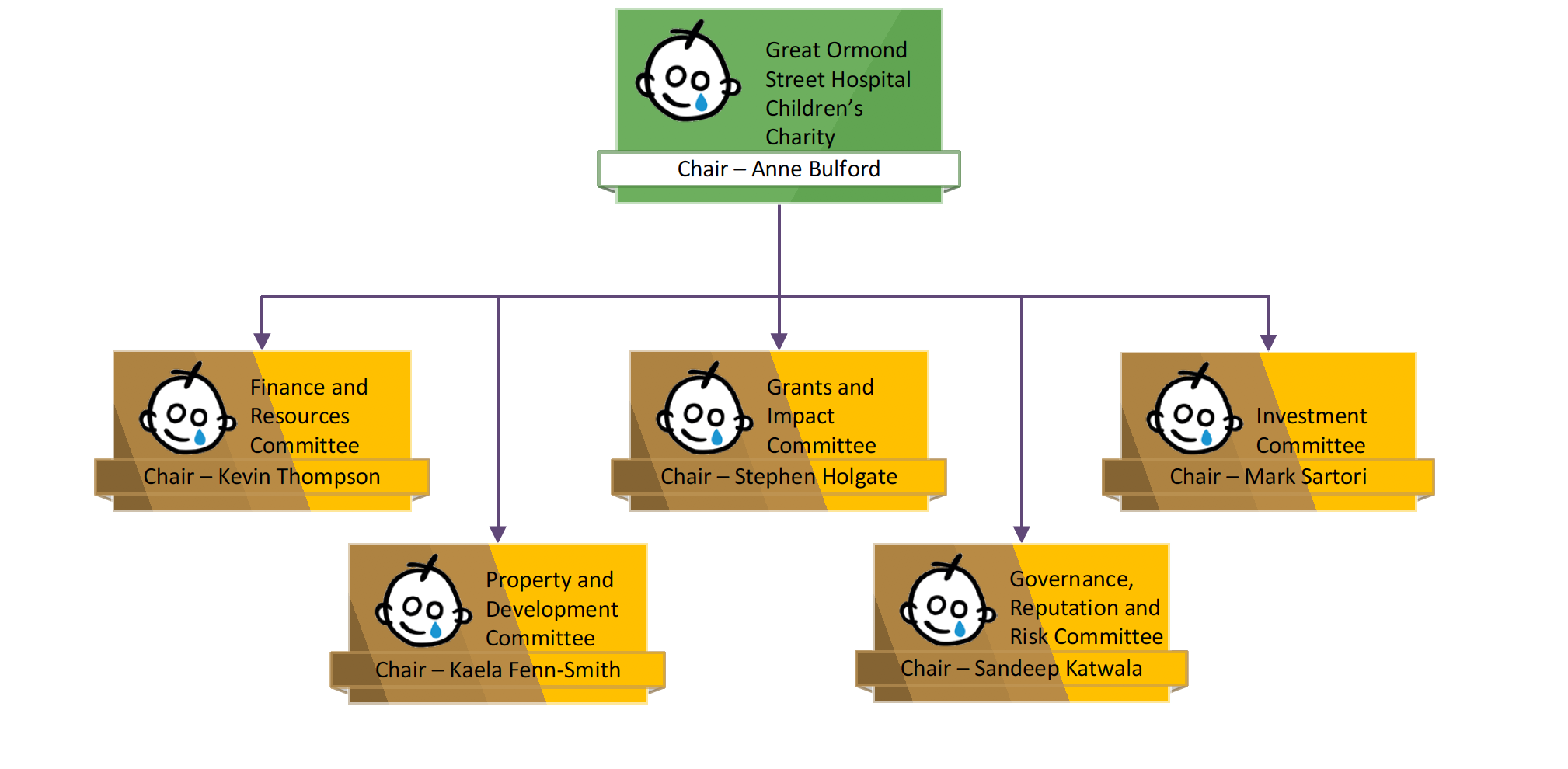 Main Activities:
Strategy:
To contribute actively to the Board of Trustees', giving strategic direction to the Charity, setting overall policy, defining goals and setting targets and then evaluating performance.
To develop and agree investment, disbursement and financial strategies (including fundraising) which reflect the needs of the Hospital and its research priorities, whilst ensuring the financial stability of the charity.
To actively support the Charity's fundraising activities to maximise the income of the Charity and so maximise expenditure on charitable objectives.
Legal:
To ensure that the Charity complies with its governing document, charity law, company law and any other relevant legislation or regulation and with the requirements of the Charity Commission as regulator, ICO and Fundraising Regulator; in particular to ensure that the Charity prepares reports on what it has achieved and its impact and Annual Returns and accounts as required by law.
To act within the Articles of Association of the Charity, the law and all relevant regulatory guidance, and abide by the Charity's policies and procedures.
Charity staff:
To empower the Charity's executive team to deliver operationally against agreed targets, goals and strategies.
To monitor the performance of the Chief Executive and the Executive Team, ensuring strong executive leadership is in place to maximise the success of the Charity.
To ensure Charity staff are appropriately managed, developed, appraised and rewarded to maximise performance and deliver high levels of staff engagement and satisfaction.
Governance:
To ensure that the Charity pursues its objects as defined in the governing document, ensuring efficient and effective administration of resources exclusively

in pursuit of its objects, whilst protecting the interests of charity donors.

To protect and manage the property of the Charity, making sure that the Charity does not undertake any activities that might place the Charity's endowment, funds, assets or reputation at undue risk.
To ensure that the Charity's funds are invested prudently and to use and administer in an efficient way any funds held on trust.
To ensure that the Charity has proper control of funds where people are raising money on the Charity's behalf or where professional fundraisers are employed. Funds must be spent (or placed in a restricted or designated fund, as appropriate) for the purposes for which they were raised.
To ensure key issues are discussed fully by the Trustees in a timely manner and with appropriate information to support discussions, allowing Trustees' decisions to be externally reviewed and evaluated.
Values:
To ensure organisational values are determined, setting out the purpose, objectives and style for the charity.
To safeguard the reputation and values of the Charity – respect, enterprising, collaborative, accountable and passionate – and to play a full part in representing the Charity's activities in an open and positive way.
To act with integrity and avoid any personal conflicts of interest or misuse of Charity funds or assets.
Commitment:
In addition to the above duties, each Trustee should use reasonable care and skill in their work as Trustees, including any specific skills, knowledge or experience they have to help the Board of Trustees to reach sound decisions and to support the advancement of the Charity.
Trustees should consider getting external professional advice on all matters where there may be a material risk to the Charity.
Trustees should commit sufficient time to their work for the charity to be able to fulfil their duties. This includes:

Attendance at sixl board meetings a year of approximately three hours' duration
Attendance at committee meetings; each committee having three to four meetings per year of two to three hours' duration each.  All Trustees will be asked to be a member of at least one Committee
Preparation for these meetings and email communications on key issues that may arise and need to be addressed outside of meetings
Attendance at one or two "away days" each year – on occasion these may be shared sessions with the Hospital's Trust Board
Attendance at possible ad hoc Board meetings or calls when the need arises

Trustees should take advantage of the provision of information and training by the Charity and access to senior management in the Charity and the Hospital so that they can fulfil their role and be fully informed during both their induction and period of office.
To undertake an appointment for either a three or four-year term, which can be followed by a further term, up to a maximum of nine years in total.
Desirable Skills and Experience:
Trustees are likely to have operated at a senior or expert level in their field of expertise. They should have a keen interest and enthusiasm for the work of the Charity and the Hospital. Specific skills will be sought as identified in the Trustee Skills Matrix.
This profile is not a set of terms and conditions, nor a contract, but a guide indicating activities and skills attributed to this role.