ENTERPRISE M3 LEP BACKGROUND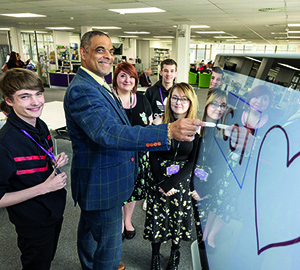 ABOUT US
Enterprise M3 Local Enterprise Partnership (LEP) helps to deliver increased productivity, prosperity and an improved quality of life for people living and working across our area.
We are business-led but bring together a partnership of both private and public sector organisations. These include small businesses, larger companies, local authorities, not-for-profit organisations, colleges and universities. We determine local economic priorities and undertake activities which drive economic growth and productivity through innovation, job creation, improved infrastructure and increased workforce skills within our area.
Enterprise M3 is one of 38 LEPs in England. We receive funds from central Government and local partners, which we use to leverage further investment from private and public sources.
We aim to step in to enable growth which otherwise would not happen. Our strategic economic investments help create, nurture and sustain economic success and enhanced productivity in our area.
OUR AREA
The Enterprise M3 area covers west Surrey and most of Hampshire. It is a globally competitive region with a knowledge, digital and design-based economy including high value sectors such as: space and satellite; aerospace and defence; digital and cyber security; life sciences and med-tech; and 'createch' (creativity and technology, including gaming).
We have five partner universities – the University of Southampton, the University of Surrey, Royal Holloway University of London, the University of Winchester and the University of Creative Arts (UCA) – which provide access to a number of important research and innovation institutions and businesses.
We are fortunate to be based in a rich natural environment, including part of the South Downs National Park. While our area has no large conurbation, it is made up of many vibrant towns including Guildford, Woking, Farnborough and Basingstoke, as well as the historic cathedral city of Winchester.
Our LEP area includes a population of 1.5 million people, two county councils and 13 district authorities, and generated £62 billion GDP for the UK economy in 2019-20.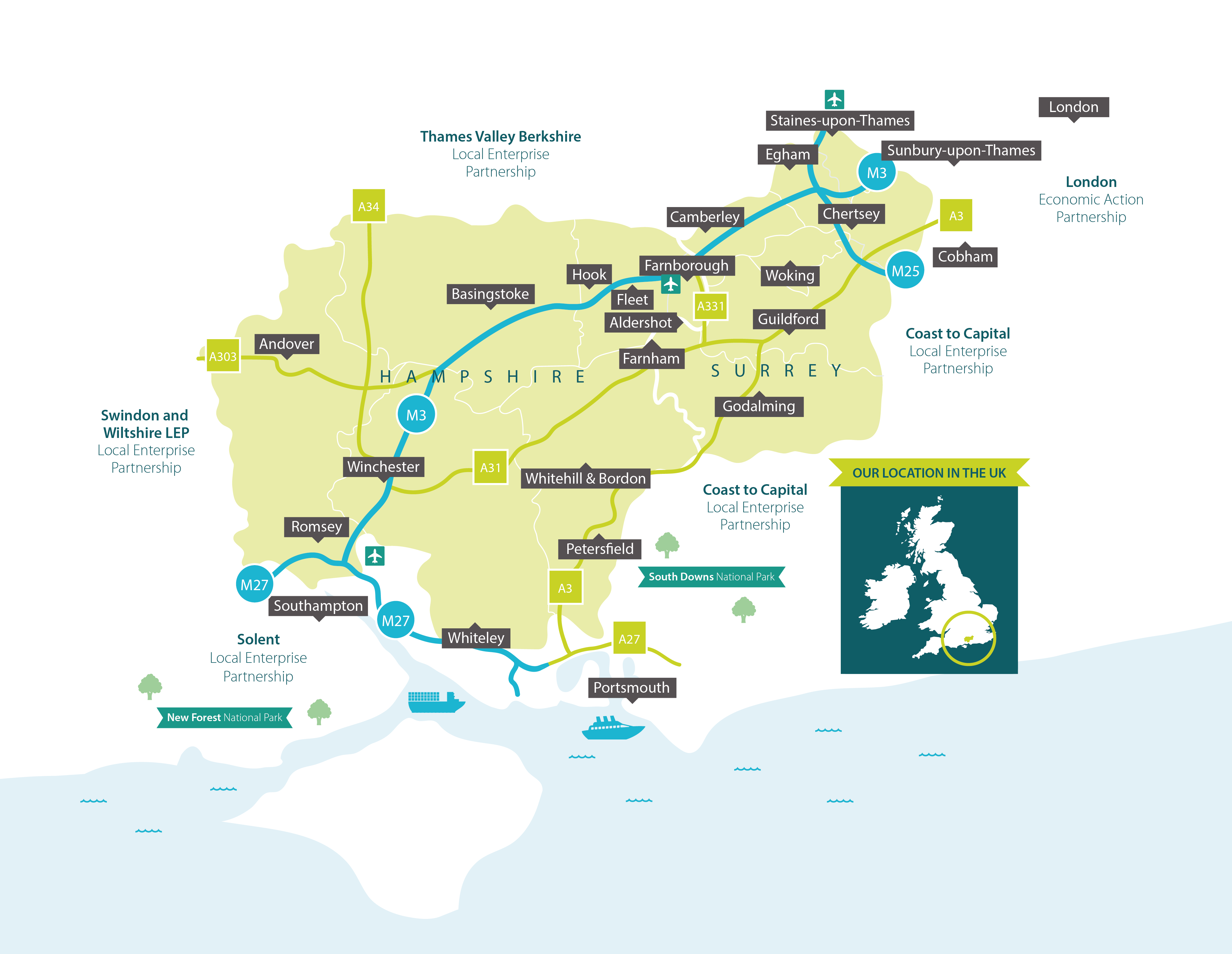 OUR OBJECTIVES
We want to make a real difference to the lives of the people who live and work in our area.
We understand that our purpose is to work in partnership with local businesses and local government to steer us towards the world we want to create in the future.
We need growth if we are to generate the prosperity which will pay for the housing, healthcare, and council services that we all want and people in our local communities need.
Our job as a LEP is to invest to support productivity, collaborate with others, identify local strengths and meet local challenges – all to make sure growth benefits our people and enhances our places. Our strategic economic investments help create, nurture and sustain the right conditions for economic success.
The money we invest impacts on people's lives. In 2019/20, we supported over 1,700 new homes and over 2,300 jobs.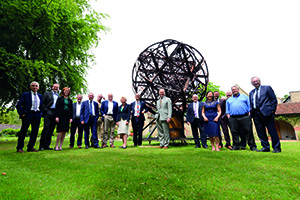 OUR STRATEGIES
Our strategies for delivering economic growth in our area are set out in our Strategic Economic Plan and through work undertaken to develop our Local Industrial Strategy (LIS).
The latest research published as part of our emerging Local Industrial Strategy presents a picture of a successful, diverse economy with knowledge-driven, globally competitive, digital and design-based businesses operating at the cutting-edge of innovation – like immersive technology and space and satellites. But past success cannot be taken as a guarantee for the future.
The new evidence we commissioned throws fresh light on many aspects of the area's economic prospects including recent changes in employment patterns; differences in the performance and characteristics of our towns; and outstanding performance on exports, especially of services.  It has provided us with a new understanding of how EM3 businesses in the low carbon sector can help the UK respond to climate change.
Our approach to the LIS focuses on nine long-term strategic priorities each of which will improve productivity but also support the viability and vitality of our towns and other places.
SCIENCE, INNOVATION AND ENTERPRISE
Stimulating more innovation and greater commercialisation of knowledge in our leading sectors, to increase output from the most productive businesses, promote diversification from these strengths, and spread the opportunities arising from them to other sectors.
PEOPLE AND SKILLS
Transforming the workforce to respond to new business models, particularly increased digitisation, and enhancing participation and inclusive growth through a better skilled, better supported and healthier workforce.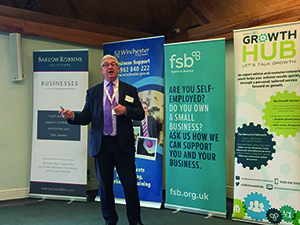 TOWNS
Supporting the productive capacity of the networks of relatively small but successful places which make up the EM3 area and generate much of its economic growth.
HOUSING
Increasing supply and securing greater diversity of housing to improve recruitment and retention of the people that business needs.
A GATEWAY REGION
Growing our region by maximising access to global markets through our ports and airports, and the potential of the sub-regional economies associated with those gateways.
CLEAN GROWTH
Articulating the full potential for the EM3 area to make better use of energy to improve productivity, and the role of natural capital in shaping future economic growth.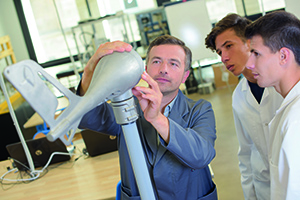 DIGITAL CONNECTIVITY
A step change in digital connectivity and the development of our strengths in digital enabling technologies, which will open up opportunities to transform public services, develop new commercial applications and address poor mobile and broadband connectivity in parts of the area.
SMART MOBILITY
Better and more efficient connections between businesses and their staff, supply chains and markets, and new approaches to mobility that suit the needs of residents and the nature of our area.
EXPORTING
Increasing the number of companies and the volumes of goods and services being exported to increase demand and stimulate investment.
The latest information on developments relating to our Local Industrial Strategy can be found here alongside its supporting evidence and commissioned reports.
REVIVE AND RENEW
COVID-19 presents extraordinary challenges to businesses, the workforce and the economy across the EM3 area.  In response to the economic impact of COVID-19, last year we worked with stakeholders to produce Revive and Renew, an evidence and intelligence-based economic recovery and renewal action plan.  This built on the analysis and consultation undertaken to develop our Local Industrial Strategy, as well as evidence about the impact of COVID-19.
Revive and Renew provides us with our framework for supporting economic recovery and renewal.  It sets out a wide range of actions, within the following priority areas:
Job creation and skills for employment
Digitisation and an ultra-fast digital infrastructure for business resilience, innovation and growth
Growth in the low carbon economy
New transport and smart mobility
Town centres and housing supply
Supporting business-led innovation, entrepreneurship, high-tech, scale-up businesses and international trade
Convening people and organisations in shared projects
The latest information about Revive and Renew, including supporting evidence, can be found here.
OUR ETHOS – 'THE EM3 WAY'
Our culture is business-led
Our method is collaborative
Our style is agile and ambitious
OUR BOARD
We have a diverse, business-led Board, which includes representatives of large companies and smaller businesses; local authorities; not-for-profit organisations; universities and the further education sector. Members are high calibre, highly experienced leaders with diverse backgrounds and skills, selected for their business acumen and specialist expertise.
Collectively, the Board, led by our Chair, is responsible for the overall strategic direction of the LEP, establishing targets and priorities, and monitoring progress.
Learn more about our Board here
OUR TEAM
The Enterprise M3 LEP team supports the delivery of LEP Board decisions and funding awards and is led by Kathy Slack OBE.
The team is currently working from home, but usually operates from the LEP office at Desklodge, Belvedere House, Basing View, Basingstoke, as well as across the LEP area.
BLOGS